Series
Tutorials
Messed Up Monday with No Fear
12:06 PM
Welcome back to Friday's continuation of "No Fear" via Messed Up Monday. The goal of today's messed up Monday is NOT to me...
Welcome back to Friday's continuation of "No Fear" via Messed Up Monday. The goal of today's messed up Monday is NOT to mess up. If you need a refresher about all the tips I covered last week, you can read the No Fear Week 2 post.

As always our sponsors are
5 out of 4
and
Nature's Fabrics
. Don't forget to join the linky party to register for your chances to win 1 of 3 prizes:
-$25 gift certificate to Nature's Fabrics.
-Free pattern from 5 out of 4
-2 yards of knit fabric from my stash
If you did all your planning work last week, you're now ready to follow along and sew some pants. YEAH!
Step #1- Cut your pattern pieces out of the Cotton Interlock this week. If you're worried that you're going to make mistakes, please Please PLEASE cut your pattern at the shorts line. That will leave you some left over fabric to play with AND the confidence to not worry that your pattern isn't going to work out.
Step #2, Pin your pattern pieces, right sides together, at the center front and center back. I've marked them here in this image with blue and labeled front and back. I would use my actual fabric but it is so hard to see on the solid blue fabric as to what is right and wrong side, etc. ***Please note that this is OPPOSITE the way that the Versatility pattern suggests assembly. Either way is correct. Feel free to either follow the instructions as written here or from the pattern. Both will ultimate create the same results.
Partial pattern piece shared with permission by 5 out of 4 Patterns.
Step #3, Stitch up your center front and center back. Stitches go along the blue line above at the seam allowance.
Step #4, Pin your pattern pieces at inseam. The inseam is the area that runs down the INSIDE of the leg. When you fold out your pants, you will have the 2 centers (front and back) touching (right sides together) and then pin down each inseam. You will pin and then stitch the aqua area as marked here. I realize these are completed shorts. I could NOT get a good photo of them unfinished. It looked like a big blob of blue!
Step #5, Stitch inseam.
Step #6, I am including instructions for an elastic waistband only. The yoga waistband requires working with cotton lycra and will be covered on Friday. Create circle with waistband elastic. Overlap waistband elastic by 1/2" and sew together. I like to sew a square on the over lapped area. I added in a dotted line so you can see more clearly. Why? This area gets a LOT of stress and I don't want to have to pick it out later to replace it. But, you can just straight stitch the 2 pieces together.
Step #7, Attach waistband elastic. I like the serged method that is used in the Versatility tutorial for this. You essentially serge the elastic onto the waistband. I always drop my knife for this step, but I do know crazy wild people that don't.
Step #8, Top stitch waist band elastic. You can use your regular sewing machine or coverstitch for this step. Both work beautifully. I used a nice 3 step zigzag on mine and like how it looks.
Done, maybe.
Knits don't fray, so we don't HAVE to hem the pants. No one would be ANY wiser. Let me say that again, you do NOT need to hem your pants. It is acceptable to stop here and call this a win.
But, maybe you want to hem your pants. So let's do this.
Step #9, Fold Up hem.
Step #10, Press hem VERY VERY carefully. This is the one place that MOST people mess up.
Possible mess up #1- not ironing at all. Knits can be really forgiving and you may be able to get away with not pressing the hem at all. No one is going to come yell at you if you don't. But we're aiming for our best work here, so let's try again.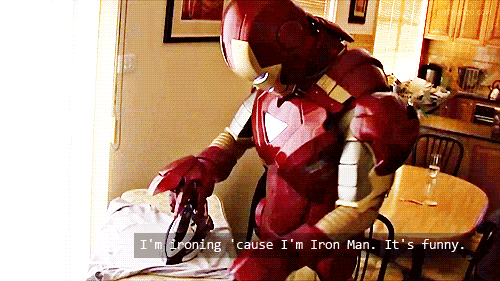 Possible mess up #2- Ironing the hem and not pressing the hem. What's the difference? Iron Man here is "ironing". Ironing involves putting downward pressure on the iron and moving it back and forth across the fabric. This can stretch out your fabric and really distort your entire project. DON'T be Iron Man. ;) Pressing the hem involves placing the hot iron on top of the seam, waiting a few moments, lifting the entire iron up away from the fabric and then setting it down on the next section. Do not wiggle the iron. The motion should be exactly straight up and down. So, how long should you press your fabric? That's a good question and I can't give you a number because each iron has unique heat settings and each fabric will respond differently. What I can tell you is that synthetics are more likely to burn than pure cotton. Some fabrics take to pressing more easily than others. Some will take a nice crisp press and others just won't. But pressing helps keep your hems even and straight, so if you're going to skip this stem, skip hemming all together.
Step #11, Top Stitch hem. Here's where a great project can go wrong REALLY fast. THIS is why we did our test swatch with our corner of fabric. When we hem, we are most likely going across the greatest stretch of our fabric. If your machine doesn't have a presser foot pressure adjustment, your fabric can get stretched out and take a perfect project and completely ruin it. And let me tell you, once your machine stretches out the fabric, picking out the stitches may not get rid of the stretched areas. So we need to be careful here. Double check your test swatch. Did your stitches come out nice and neat when you went across the fabric? Did you need to use support (like hem tape) when sewing across this area? AND, are you going to use a different stitch for top stitching? If you're using a different stitch (like a wide zigzag) you need to recheck your stitch on your test swatch. I know that this Janome does great with the lightening bolt stitch across the width of interlock but if I use a wide zigzag it will pull the hem out of shape and ruin my project.
Done, for real this time.
That's it. Finished. You survived. I survived. We skipped all the parts where your project gets ruined! <High Five>.
This Friday we're going to do the same thing, only with your cotton lycra. Its going to be just as awesome.
For your linky party entries, today I want photos of your finished interlock shorts. Either on your model or flat on your cutting table. And for an extra point, zoom in to your hem. Whether you leave it unhemmed or top stitch, I want to see it all. See you Friday!